Cody Rhodes committed a cardinal sin on the day of the Royal Rumble.
Despite his father—the legendary Dusty Rhodes—teaching him otherwise, Rhodes did not commit to his customary walkthrough on the day of an event.
"That was his big thing," says Rhodes. "Walk the ramp one time, get in the ring, think about your moment. But I didn't do it."
Rhodes's path to the Royal Rumble this past January was nothing short of an odyssey. After sharpening his teeth with the company 17 years ago in WWE developmental, Rhodes enjoyed pockets of success over the next seven years. Yet he was never able to reach that elusive upper echelon. Even with an adamant belief that he could thrive among the top stars, the opportunity never materialized. After an up-and-down run as Stardust that bled into 2016, a time frame that coincided with the sudden death of his father, Rhodes took matters into his own hands.
He requested his release from WWE.
Rhodes revealed his frustration in 2016 on social media, tweeting, "I felt like I had a bag of those brass rings and when it came time for me to cash them in, I find I can't do so. … I do believe the cream rises, and hard work prevails. My work just needs to be elsewhere." Instead of complaining or growing bitter, he accepted an arduous schedule of dates, working for New Japan Pro-Wrestling, Ring of Honor, Impact Wrestling and all across the indies. He redefined his physique during this stretch, and he became a far more confident performer in the ring, especially during a singles bout against Kenny Omega at the famed Cow Palace in San Francisco. Wrestling over control of the Bullet Club, far bigger stakes were at play. Rhodes needed to show he was Omega's equal in the ring. The two had a spectacular bout, which was followed by more magic at All In. Rhodes then teamed with Omega and the Young Bucks to become the four founding executive vice presidents of Tony Khan's new promotion, forever changing wrestling with the introduction of AEW.
As the years rolled on, Rhodes could not contain his roaming spirit. By late 2021, he saw himself running in neutral in AEW—and he also noticed a monumental opportunity to capitalize on what he built in AEW by returning to WWE. That is precisely what he did last year, arriving in stunning fashion at WrestleMania 38 as the surprise opponent for Seth Rollins.
"It felt like a debut more than a return," says Rhodes. "'The American Nightmare' is a far different everything than I ever was before. Everything had to change after I left, so that's what I did. I changed everything, especially the way I train. The way I train now is designed to do this at a higher level than anyone else. When I came back at WrestleMania, it was a different me, a version of me finally having settled in."
Rhodes defeated Rollins at WrestleMania 38; then they eclipsed that performance in their rematch at Backlash. In an epic manner, Rhodes then put on the performance of his life at Hell in a Cell, defeating Rollins in a cage with a gruesome pectoral tear leaving his chest deeply bruised. The injury forced Rhodes to leave the company to rehab, a negative that he transformed into a resounding positive. Incredibly, if all went according to plan in his rehab, Rhodes was scheduled to return just in time for the Royal Rumble—a match that would propel him to the main event of WrestleMania 39.
"There would have been different challenges had I been on TV every week," says Rhodes. "That's a challenge I would have wanted to accept head-on. But there were positives. An area where it personally benefited me is that I got to spend that time with my daughter.
"I worked and I worked to get cleared. I thought I was ready to come back sooner, and I'd been partially cleared, but the full clearance came at the Rumble."
Since Rhodes had been away from WWE since June, his schedule at the Rumble in January was a whirling dervish of controlled chaos. The plan was for him to enter at No. 30, so in theory, plenty of time existed in the late morning and early afternoon for that customary, day-of-the-show walkthrough. Yet the son of Dusty Rhodes decided to walk his own path.
"I could tell you I was so busy behind the scenes, or that I hadn't even put on my gear in seven months, but those would only be excuses," says Rhodes. "Truthfully, I didn't want to see empty scenes. I didn't want to be seen by anyone in the ring until I was there. The first time I wanted to feel that environment was in that moment. My father wouldn't have been happy about it, but I wouldn't change a thing about it."
When Rhodes finally entered the Rumble, he seized immediate control of the match. He tied for most eliminations with five, and wrestled with the verve of someone who had finally been given his opportunity after more than six months away.
"Waiting until No. 30 wasn't that difficult," says Rhodes. "The maddening part was the rehab. For a while, my goals were so small. Triple H tore his pec and offered some great advice about accepting small goals. That was difficult for me. So I made goals while I was away, ones that I could control. One was changing my look, and I entered the Rumble at 8.6% body fat, which took an incredible amount of discipline. But it was worth it.
"When I finally stepped out into the arena at the Rumble, there was a rush of adrenaline. There was so much going on; I didn't even talk to the production team ahead of time. If you watch closely, I didn't have a clue where the hard cam was."
Rhodes and Gunther were the final two competitors in the Rumble. Gunther had entered first overall, and he delivered an outrageously compelling showing during his hour and 11 minutes in the ring. His showdown with Rhodes became an instant classic, setting the stage for a singles feud between the two in the near future.
"There'll be more to come between me and Gunther," says Rhodes. "That wasn't the plan, but it's inevitable. As someone who is a huge fan of the intercontinental title, I'm a big fan of Gunther and what he's doing as champion. Gunther wrestles violently. When we wrestled, that was a wonderful moment of discovery for me to experience his style first-hand."
Seventy-one minutes into the match, and approaching two decades into his career, Rhodes clotheslined Gunther out of the ring to win the Rumble. The emotion of the moment was palpable, and the scene of Rhodes pointing at the oversized WrestleMania sign was equal parts story line and reality.
Rhodes, now 37, is wrestling royalty. Yet for the longest time, he was in the shadow of either his father or his half-brother Dustin, who has enjoyed his own iconic career in WWE, WCW and AEW. Neither of those men won the Rumble, a victory that ensures a main event and title shot at the ensuing WrestleMania. Yet Cody Rhodes emerged victorious, and every ounce of that victory felt significant to him. This was his dream since childhood, and he is living it at the highest level possible.
"In that moment, my life changed," says Rhodes. "I added myself to a list of guys that includes Shawn Michaels, a guy I grew up idolizing. Take whatever substance remover you want, you'll never be able to take my name away from the list of Royal Rumble winners."
Not even a sledgehammer, Rhodes was reminded, could remove his name from that list.
"You can't even sledgehammer it away," says Rhodes with a picturesque smile. "I waited my whole life for that moment. It's there forever."
Winning the Rumble is not the end goal. It is an essential moment, one that coincides with so many stars becoming legends by winning the title at WrestleMania. But there is another equally vital step in the process that remains.
"The one thing that always makes me angry in this business is when guys don't want to be champion," says Rhodes. "That always, always bothers me. Why would you put your body through this? Why would you spend your life on the road? Why would you be away from your family? Winning the Royal Rumble brought me one step closer to becoming champion. That's what I want.
"After the match, right before I was about to meet with the media, [senior manager of talent relations] John Cone showed me a giant binder of what I was required to do between then and WrestleMania. I couldn't have been happier. This is what I've been working toward. This is always what I wanted."
There are levels to success in pro wrestling. To reach the highest point possible as WWE champion, to compete with the likes of Roman Reigns, it dawned on Rhodes after he left the company that an enhanced look was a necessity.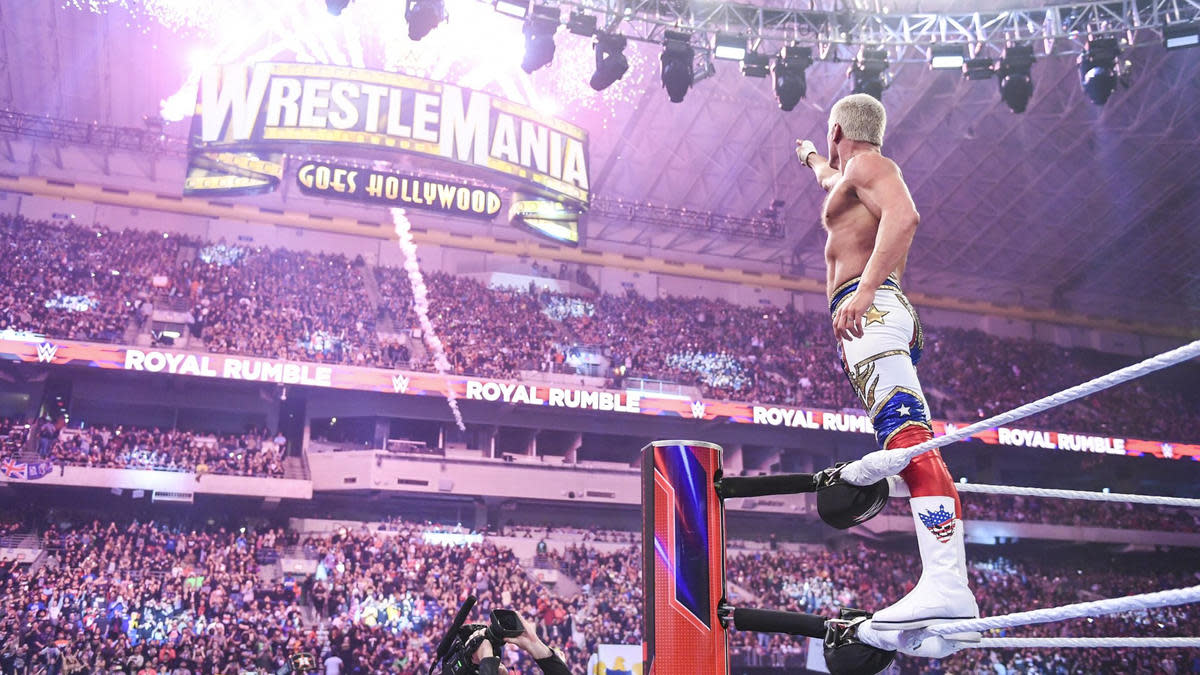 Courtesy of WWE
The evolution of Rhodes includes entirely redefining his physique. He is an altogether different performer than he was when he left WWE. His physical manifestation centered on building muscle while keeping his balance, putting on size but staying quick, and still finding a way to jump high with that added bulk. The conditioning has paid off, and in-ring athleticism will be an area where he and Reigns click in their match at WrestleMania.
"I'm here to stand as tall as the tallest," says Rhodes. "That's driven me as I put in the work."
Reigns is the face of the WWE. He is rapidly approaching 1,000 days as champion, which is especially rare in the modern era. No other star operates within Reigns's galaxy, and his work is further magnified by The Bloodline—which includes the brilliant work of Paul Heyman, Jimmy and Jey Uso and Solo Sikoa. For Rhodes to reach the next level, he needs to go through Reigns.
"I love proving people wrong," says Rhodes. "I know I wasn't in the main event when I left in 2016. But in this business, you don't finish where you start.
"Coming back to WWE, that was a risk. There's so much luck involved. That's why we called it All In. It's a gamble, and coming back here was, too. If I failed, I could have been the laughingstock of the industry. But it's paying off.
"The reason this is working is because it feels real. And that's because it is. That's the secret. Roman's history and experience with my father, my history with Mr. Heyman. My past and all it took to get back here. This feels real because it's all real."
The last time Reigns was pinned occurred in December 2019. Rhodes is seeking to change that, in turn overcoming another insurmountable challenge. In many ways, he has already won. Rhodes overcame the grief from losing his father, redefined himself as a pro wrestler, attached his fingerprints to some of the most iconic moments in AEW's brief history, welcomed a child into the world with his wife, and returned home to WWE. Winning the Royal Rumble is now part of his lofty list of accolades, too.
But all of that is not enough.
Rhodes hungers to be champion. He accomplished the feat in Ring of Honor, then again when he won the NWA strap. Those, however, were just preludes to destiny. Gaining possession of WWE's top prize—referred to now as the undisputed WWE universal championship, yet a prize Rhodes believes is his divine decree—is the ultimate objective.
Until he becomes champion, despite all the triumphs and fame, Rhodes is incomplete. This is for his father and brother; his sisters and mother; his wife and daughter. He needs to attain the prize, one that no Rhodes has been able to conquer. Always out of reach for Dusty and Dustin, this is Cody's chance to honor his family with a touch of immortality—and there is absolutely no better place to kiss destiny than WrestleMania.
"I never go into a match thinking about losing," says Rhodes. "Now it doesn't always work that way. Sometimes the shot doesn't go in at the buzzer. I know that. After everything I've done, to be going on last in the biggest event to ever be connected to a wrestling ring—from a financial standpoint, from a penetration standpoint, any measurable statistic, and I'm going on last in the biggest event in the history of pro wrestling—that alone is an incredible accomplishment. But I need to finish the story. That's the truth, and that's how I'm approaching the match. The story isn't complete."
Reigns has never faced a challenge like Rhodes. Unrelenting, persistent, savvy, witty, funny, Rhodes finds a way to do it all. For someone who cannot jump high, Rhodes finds a way to reach those unattainable heights. Despite not being known as a talker, Rhodes continually gives compelling, passionate interviews. He is the perfect opponent for Reigns, and very well could be the one to end his reign.
Magic is in store for WrestleMania, with energy already in the air.
"It's a basic, fundamental story—two guys who want to win and refuse to lose," says Rhodes. "That's exactly what we have here. And that's real. It's also unique to Roman. I want this every bit as much as he does. I want it more.
"It's everything I've ever wanted. Now I need to go and finish the story."
Justin Barrasso can be reached at [email protected]. Follow him on Twitter @JustinBarrasso.