After a streak of playoff exits, the reigning MVP is itching to get a title, whether it's in Philadelphia or "anywhere else."
The notion of Joel Embiid potentially wearing a different uniform than the one he's played in his entire professional career just became a smidge more realistic, as the Sixers' superstar said recently in an interview that he wants to win an NBA title at all costs—even if it's not in Philadelphia.
"I just want to win a championship. Whatever it takes. I don't know where that's gonna be, whether it's in Philly or anywhere else," Embiid said, speaking with Maverick Carter. "I wanna see what it feels like to win that first one and then think about the next one. It's not easy. It takes more than one, two, three guys. You've gotta have good people around you."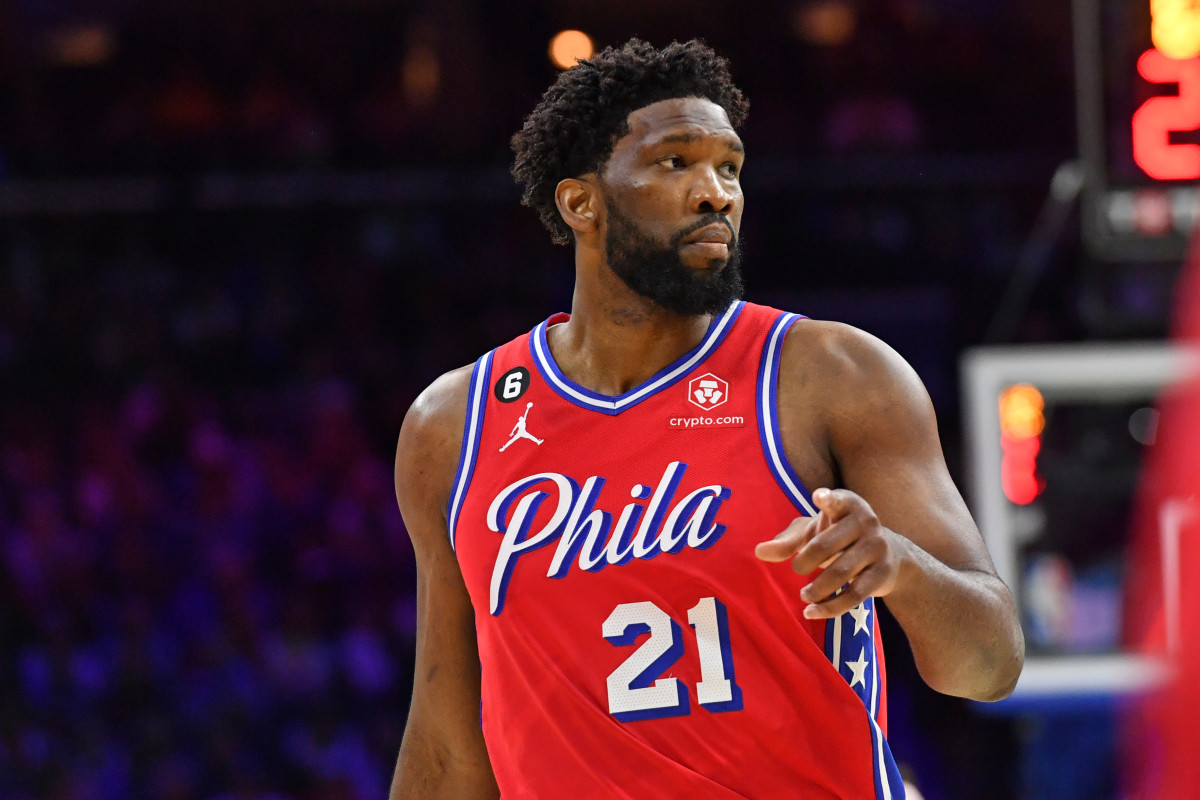 Embiid has been with the Sixers since he was drafted in 2014, though he sat out his first two seasons with injury.
Eric Hartline/USA TODAY Sports
Embiid appeared to downplay the comment on social media Monday morning. "Buddy Check my middle name," Embiid wrote to a fan expressing displeasure with his comments. (Embiid's middle name on Twitter, Troel, is a play on the word "troll.")
But if there is something more to his comment, it shouldn't be a massive surprise. Top-level athletes often want validation at the highest level, and a championship accomplishes that more than anything. That doesn't mean this is comfortable for Philadelphia or the team's front office, though. The very thought of Embiid mentioning "or anywhere else" puts the Sixers squarely on the clock in terms of accomplishing more. The club has been bounced from the playoffs in the conference semifinals five times in the past six seasons and has failed to advance past that round since 2001, during the Allen Iverson era. Sure, bad luck has entered the equation, via the wild Kawhi Leonard bounce in Toronto back in '19. But the organization has pieced together good-enough rosters—and most importantly, Embiid, the reigning MVP, has been healthy enough these past few years—to get the Sixers further than this at some point during that span.
There have been three coaches during this era: Brett Brown, Doc Rivers and now Nick Nurse, who won the crown as coach of the Raptors in 2019. There's been a question for years about which costar would be best for Embiid. Jimmy Butler seemed a great fit, and Embiid clearly respects him, but there were questions about whether a budding Ben Simmons would develop fully as a ballhandler if Butler remained with the club. Then, even after Butler's exit, Simmons fizzled in odd fashion in the 2021 playoffs, failing to ever develop a jumper to go with his impressive passing and lockdown defense at times. James Harden has flickered, looking fantastic in some big moments, but far less impactful in a number of others. (Speedy guard Tyrese Maxey looks like the future and just averaged 20.3 points per game in his third season.)
Maxey shot 48.1% from the field and 43.4% from three-point range during the 2022–23 season.
Bob DeChiara/USA TODAY Sports
Reports have suggested that the Sixers would be uninclined to include Maxey in a potential deal for Damian Lillard, the sort of playmaker and floor spacer who'd likely be a stellar fit with Embiid. And that's totally fine, given that Lillard's made it known he prefers to join the Heat and Philly might want to keep a wider contention window than just the remainder of Lillard's.
But even if Embiid has a tendency to troll, his comment about wanting to win, no matter what it takes, should be taken as a warning sign for a team that's finished nearly every season as of late in the exact same place: on the outside looking in at the conference finals and NBA Finals. Between Embiid staying healthy and the timeline of whichever point guard he's playing beside next year, the Sixers' clock is not only ticking, but getting a little bit louder with each passing season.